Girls Design For Good Engineering Challenge Event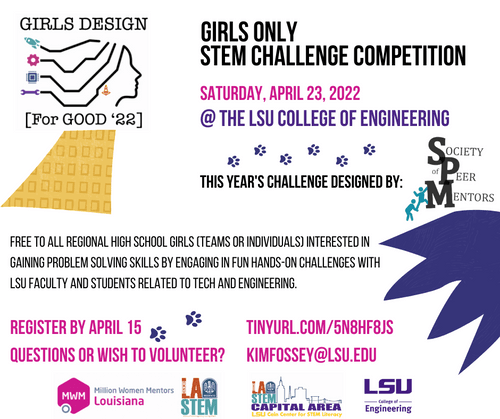 This form is currently unavailable. Try again later.
---
An ALL-DAY GIRLS ENGINEERING DESIGN CHALLENGE @ the LSU College of Engineering
WHO:  For teams (or individual) girls in grades 8-12. This includes all students: public school, private school, homeschool, scout troops, after school programs
WHAT: FREE hands-on mini-workshops and a competitive engineering design challenge designed to make STEM exciting and relevant and to motivate girls to pursue high-demand, high-wage STEM careers.  Girls from around the state will have the opportunity to learn problem-solving skills by engaging in hands-on sessions with professionals from the community and college students enrolled in technology and engineering disciplines.
WHEN: SATURDAY, APRIL 23, 2022 from 8:30 - 4:00 @ the LSU College of Engineering - Patrick F Taylor Hall
GOALS:
1. Gain creative problem solving and design thinking skills that are in demand in today's workforce
2. Gain project-based collaboration skills while working with peers, as well as professionals to bring their ideas to life
3. Inform girls and families about pathways and STEM careers available
4. Provide girls with exposure to entrepreneurship building skills
SAMPLE AGENDA:  
8:30 – 9:30 a.m.               Arrival, breakfast, welcome
9:45 – 11 a.m.                  Morning workshop session(s) and mini-competitions
11:15 a.m. – noon            Lunch & Guest speakers
12:30 – 2:45 p.m.             Afternoon design challenge
3:00 - 4:00 p.m.                Presentations & Prizes
WANT TO VOLUNTEER/MENTOR?  CONTACT KIMFOSSEY@LSU.EDU
ABOUT the SPONSORS:  Girls Design For Good is a state-wide project of Million Women Mentors-LA in collaboration with LaSTEM Capital Area STEM Network Center and the LSU College of Engineering STEP Mentors program that aims to involve young women in science, technology, engineering, and mathematics (STEM). Learn more about Million Women Mentors, the premiere network that is dedicated to initiative that encourages girls and women around the world to pursue, persist and succeed in STEM careers. Learn more about the LSU College of Engineering, LaSTEM's Capital Area STEM Network Center.