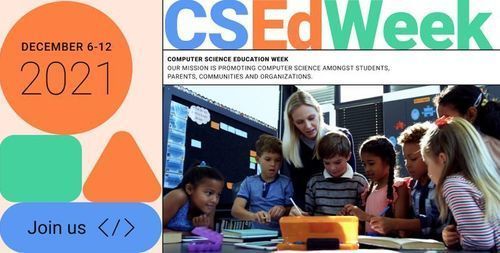 Celebrate Computer Science Week
Try out one of Hour of Code Activity sites listed below.

TEACHERS - SHARE your Hour of Code Event with Photos HERE and register for a chance to win a cool tech prize.  Please do not submit photos of students that don't have a media release, as well we post to this site.
Hear Learning Blade's Joshua Sneideman's quick message about 3 amazing missions that could be used for CS Ed Week and beyond:  Introduction to Computer Science, Hack Attack, and/or Flu Outbreak!  No better way to incorporate LA state standards and enjoy CS Ed Week!   Louisiana Teachers, learn more exploring programs here.
Hour of Code Ideas
Hour of Code was created by Code.org to introduce ANYONE to Computer Science through an hour-long coding activity. Sort through the wide range of activities (grouped by grade/level of difficulty) and you will definitely find something that will engage your students, regardless of the subject you teach. I love the "Poem Art" and "Star Wars Code-a-Galaxy" activities and most students love the Minecraft activity. See activities. Also check out "Dance Party" lesson here (https://curriculum.code.org/hoc/plugged/8/) Six NEW tunes have been added to the lesson to use. Harry Styles - "Watermelon Sugar"; Dua Lipa - "Levitating"; Olivia Rodrigo - "good 4 u"; The Kid Laroi - "Stay"; Glass Animals - "Heat Wave"; Masked Wolf - "Astronaut in the Ocean"

Like many of Hour of Code activities, students are introduced to a coder and a quick description of the challenge. Great tutorials as students work through the projects. Try one!

2021 HOC Challenge for ages 9 and above - SAVE THE FOREST!: Code a game with Microsoft MakeCode Arcade that recreates the conditions for a forest fire and then code your fire-fighting airtanker plane to spray water and put out the flames. Check it out here!

Computer Science Heroes: Using 12 diverse CS pioneers, students will learn the impact that computer science is making everywhere & the relationship that computer science has to different subjects, industries, career paths, & our everyday lives. Great resources & videos of computer science heroes. See CSWeek Activity.

National Girls Collaborative is partnering with Beyond to encourage students to learn about tech in all industries including music, beauty, sports, entertainment, and fashion. Students will play a game and submit their thoughts around innovating tech in their favorite industry. The most creative and captivating submissions will receive prizes, including gift cards and personalized video messages from one of their favorite celebrities. I have personally visited with the creator of Beyond and girls will love it. Confirm students' involvement by submitting a participation form.

NASA-themed FREE computer programming activities facilitated by NASA and Tynker experts each day next week - Monday - Friday at noon. Register here. Get ready by watching Return to the Moon Hour of Code Recording.

Lightbot- ANY age, pre-reader+ can experience the HOC with Lightbot. Lightbot uses programming logic to solve fun puzzles. Students will learn how to sequence instructions, write procedures, and utilize loops along the way. Find more pre-reader resources here by clicking on "pre-reader".

Intro to App Lab- With this tutorial aimed at 13+ students can create their own app in JavaScript using block-based programming. Have advanced coders? They can level up with text-based programming.

Students create and share the content on their own web pages. They begin by thinking about the role of the web, and how it can be used as a medium for creative expression. As students develop their pages and begin to see themselves as programmers, they are encouraged think critically about the impact of sharing information online and how to be more critical content consumers.

Stay tuned next week to see how Learning Blade is supporting Computer Science Education
all across the country. https://www.learningblade.com/la Try one of their three missions this week: Intro to Computer Science, Hack Attack, and/or Flu Outbreak for a great way to integrate CS with LA standards.