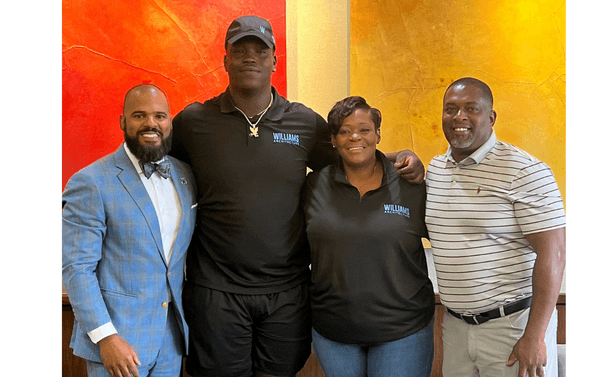 Collegiate NIL as STEM Workforce Development

BATON ROUGE, Louisiana – Last month, Williams Architecture announced its Name, Image, Likeness (NIL) contract with LSU Football's first-year Offensive Lineman, Emery Jones. Williams Architecture is a pioneer among Louisiana minority-owned, local, and small businesses in signing an NIL contract. Emory Jones, a forerunner among college athletes who have broken with the convention of promoting major national consumer brands, will raise awareness of STEM education & careers.
The Collegiate NIL movement that began in late 2021 has introduced significant financial and career-building opportunities for athletes by essentially providing a paid internship in marketing, e-commerce, branding, and negotiating. Whereas NIL athletics is a potential bridge between education and industry by way of business workforce and talent development, Williams took things a step further. 
"I noticed the opportunity for inspiring minority athletes beyond simply building and honing soft skills," Williams said. "Developing hard skills through professional experiences as a student-athlete is difficult enough because one must also allocate resources towards their craft on the field. Sure, learning these things can help ensure a successful post-collegiate career, though, when I reach back out to where I was as a first-year college student, I see tremendous value in spotlighting STEM and design for those who are underrepresented in those careers."

Even as demand goes up and universities pledge improvements, representation in STEM degrees and careers has stalled. Of the 116,242 licensed architects in the United States and its territories, just two percent are Black. Of the 2,325 actively licensed Black architects in the US, Williams is the first Black-owned firm to be founded in Baton Rouge in over nearly 60 years; Franklin L. Lassiter, owner of FLLA Architects-Engineers, circa 1968, is the first on record.
"Emery's internship at our firm lets him explore firsthand some of what goes into the process of building cities, shaping skylines and creating the houses, schools, government buildings, museums, places of worship as well as other structures we occupy daily," Williams said. "Through our local partnerships, Emery will network with the community through engagements, events, and volunteer opportunities. While representing Williams Architecture, Emery will also promote STEM learning and awareness in underserved communities throughout the Capital Area," Williams said.

Architecture has always represented the intersection of several disciplines. Its recognition as a STEM subject in 2019 acknowledged the profession's long history of ingenuity and problem solving. When the U.S. Congress passed the bi-partisan Strengthening Career and Technical Education for the 21st Century Act in 2018, its intent was for improving Career and Technical Education (CTE) resources for schools, employers, students, and learners on all levels. 

Williams Architecture partners with EBR Schools, Project 70805, BREC, South Baton Rouge Rams, 100 Black Men of Metro Baton Rouge, Madison Preparatory Academy, and Community School for Apprenticeship Learning. Do you have any ideas or opportunities for volunteering or community engagement that fit this movement? Marcus would love to hear from you!
About Marcus J. Williams
Williams is a Baton Rouge native. Long before he graduated from LSU School of Architecture in 2005, he was a student at Mayfair Elementary among other EBR public schools. His local dream project entails giving back to the EBR community through a re-design for a re-build of what is now Mayfair Lab, his childhood neighborhood school. Williams eagerly shares his experiences and inspires youth and local businesses in creating an inviting, collaborative, and open STEM education culture.

Contact Marcus J. Williams, AIA, NOMA, NCARB
Williams Architecture