The Capital Area STEM Network Center is hosting The Ignite Project, a 40-hour workshop at no cost, focusing on essentials of computer science for K–5 teachers in public and public charter schools. The workshop emphasizes interactive, project-based learning, incorporating popular educational resources such as Code.org, Scratch, ScratchJr, Micro:bit, and robots. The Ignite Project adopts a "train the trainer" approach, preparing Ignite Ambassadors to disseminate workshop content to other teachers within their districts.
Join us to become one of 1,000 educators prepared to enhance your CS teaching toolbox. Upcoming Ambassador workshops will be taking place statewide.
Who can join Ignite?
Ignite offers two levels of participation to educators in Louisiana:

To participate at the Teacher Level:
You must be a public school or a public charter school teacher (or student teacher), enrichment coach, etc. who provides direct classroom instruction to K–5 students.
No experience is required.
Will earn $350 upon completion of the workshop.
Trained by an Ignite Ambassador through your district.
To become an Ignite Ambassador:
You must be an individual selected by your district or school to re-deliver the Ignite workshop to teachers in your district or school.
Able to re-deliver the content training to K–5 teachers in your district or school after completing the workshop.
No experience is required.
Will earn stipends of at least $1200–$1500 upon completion of re-delivery (depending on the number of teacher level participants trained).
What is the cost?
Participating in Ignite is entirely free.
Ambassador workshop details:
The 40-hour Ignite Ambassador workshops run from December 2023 to March 2024. They include a mix of virtual, in-person, and self-study components, along with preparation and deliverables:
Training sessions: Two 8-hour in-person and two virtual sessions 

Session 1: in-person
Session 2: virtual January 20, 2024 
Session 3: virtual February 3, 2024 
Session 4: in-person February 24, 2024, or March 2, 2024 

Support sessions: Four 2-hour virtual synchronous sessions
Topics covered will include:
CS Fundamentals
Scratch and ScratchJr
Micro:bits and Finch 2.0 Robots
Emergent Technology and Online Safety
Do I need my own computer?
Please bring your personal laptop, school-issued laptop, or Chromebook to all training sessions.
Obligations:
All participants must:
Fully engage in all 40 workshop hours, including sessions, self-study, preparation, and deliverables.
Deliverables include creating a lesson plan, provide evidence of its implementation, write a brief reflection, and complete necessary surveys.
When and where are the training sessions?
Training Session 1: "CS Fundamentals for Ambassadors"
Time: 8:00 a.m. to 4:30 p.m.
Greater Baton Rouge Area
Date: Saturday, December 2, 2023
Location: Dutchtown High School, Room TBD, 13165 LA HWY 73, Geismar, LA 70734
Lake Charles
Date: Wednesday, January 3, 2024 
Location: Region 5 Stem Center, Library, 1509 Enterprise Blvd., Lake Charles, LA 70601
Lafayette
Date: Saturday, January 6, 2024
Location: South Louisiana Community College, Devalcourt Building Auditorium, 320 Devalcourt St., Lafayette, Louisiana 70506
Baton Rouge
Date: Saturday, January 6, 2024  
Location: Louisiana State University, Patrick F. Taylor Hall: Room TBD, 3304 S. Quad Dr., Baton Rouge, LA 70803
New Orleans
Date: Saturday, January 6, 2024  
Location: Tulane University, Lindy Boggs Building: Room 104 and 105, 6823 St. Charles Ave., New Orleans, LA 70118
Ruston 
Date: Saturday, January 6, 2024  
Location: Louisiana Tech University, College of Education, Woodard Hall: Room 135, 305 Wisteria St, Ruston, LA 71272
Sign Up for The Ignite Project:
Training Timeline for Ignite Ambassadors
Timeline for Ambassadors to Train Teachers: March 3–May 20, 2024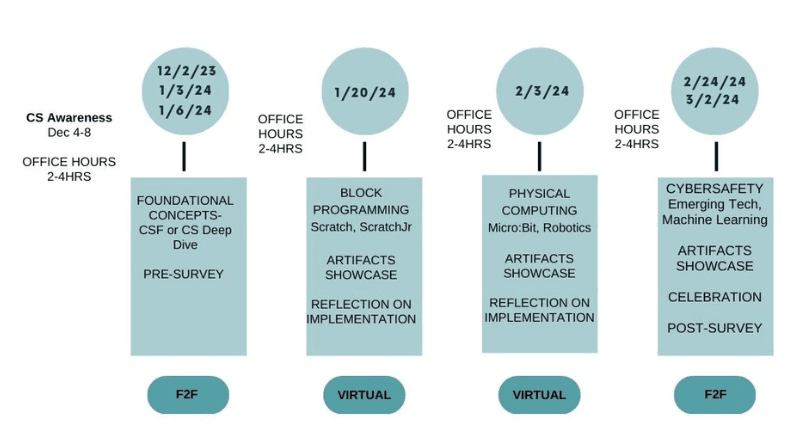 Promotional Video