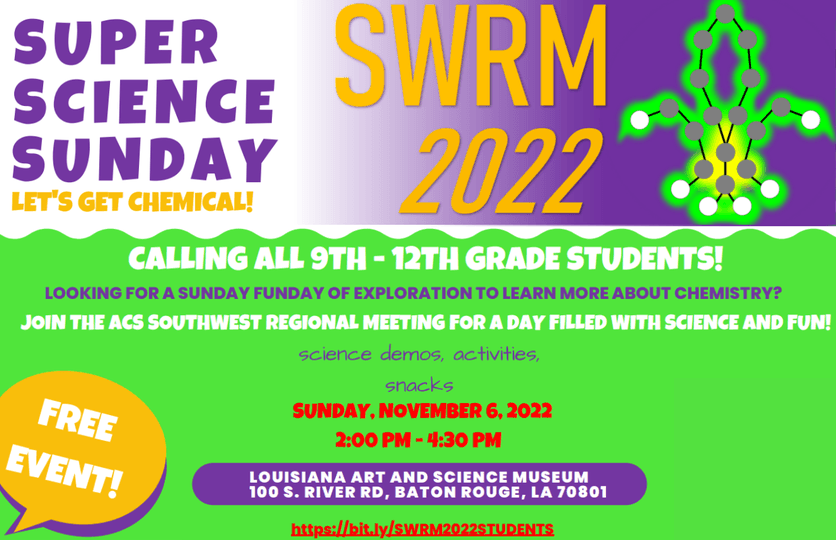 FOR IMMEDIATE RELEASE: 10/31/22 
BATON ROUGE, LA – The Louisiana Art & Science Museum (LASM) will host Super Science Sunday: Let's Get Chemical as a part of the American Chemical Society 2022 Southwest Regional Meeting (SWRM 2022) on Sunday, November 6, from 2 PM – 4:30 PM. For this Super Science Sunday, visitors will explore chemistry through fun demonstrations with local scientific groups and can attend a discussion on a stratagem to prepare future scientists. Admission for the day will be free of charge for LASM's Free First Sunday and includes all shows in the Irene W. Pennington Planetarium. 
General Chair of SWRM2022 Dr. Daniel Varnado encourages aspiring young chemists, students, and teachers to register for this afternoon filled with science demonstrations and resources. "Our local section of the American Chemical Society is hosting the 2022 Southwest Regional Meeting (SWRM2022) in Baton Rouge," states Dr. Varnado. "As part of our meeting, we have a community outreach event planned at the Louisiana Arts and Science Museum! Organized by Dr. Tyrslai Williams-Carter, and sponsored by ExxonMobil and the Education division of ACS, Super Science Sunday will include educational activities for high school teachers and students." 
Super Science Sunday is a free event focused on chemistry education for 9th to 12th grade students and high school teachers. For students, this event will provide demonstration booths with hands-on activities to engage students in the world of chemistry. The activity stations will engage students with chemists at varying levels, from graduate students to senior chemists.  
Dr. Tyrslai Williams-Carter, Assistant Dean of Mentorship, Education, & Research in Strategic Initiatives of the Graduate School (SIGS) and Assistant Professor of Research in the School of Education at Louisiana State University and organizer of Super Science Sunday, looks forward to the event and the several sponsors bringing their chemical expertise. "Our mission is to ensure that all students and teachers attending come and learn something new and cool about chemistry and how it relates to the world around us," states Dr. Williams-Carter. "Additionally, we hope that all leave excited about science and the possibilities it presents in their lives." 
Teachers can look forward to panel discussion on methods of nurturing students who have a particular interest in chemistry. This session will also allow teachers from local high schools to engage in dialogue with university professionals on strategies and tips for growing and maintaining students' interest in chemistry while preparing them for the next step on their academic journey. 
Students: Register now
Teachers: Register now
### 
Contact: Marion Mayfield, Communications & Marketing Manager, mmayfield@lasm.org, (225) 344-5272, ext. 111 
About the Louisiana Art & Science Museum: 
Located at 100 South River Road, Baton Rouge, LA 70801 and housed on the banks of the Mississippi River in a historic railway station in downtown Baton Rouge, the Louisiana Art & Science Museum believes that art and science shape each other, our lives, and the world. 
The Museum, founded in 1962, is home to the Irene W. Pennington Planetarium, the largest and most advanced planetarium in Louisiana and one of the largest in the southeastern United States; a permanent collection including over 4,000 objects; one of the only permanent ancient Egypt galleries in the southeastern United States, housing an authentic, Ptolemaic-era mummy; and displays changing art exhibitions of local and international acclaim. 
LASM is now open on Wednesdays, Thursdays, and Fridays from 10 AM – 3 PM, Saturdays from 10 AM – 5 PM, and Sundays from 1 PM – 5 PM. Museum doors open at 9:45 AM for seating in the Irene W. Pennington Planetarium. On Saturdays and Sundays, the last planetarium show runs at 4 PM. Admission, which includes unlimited access to all planetarium shows, is free for members and children 2 years old and under; $10 for children ages 3-12 and senior adults aged 65 and up; and $12 for adults. Active-duty military members, first responders, military veterans, and their families receive free admission with ID as part of the Blue Star Museums program, sponsored by Special Risk Insurance, Inc. VFIS of Mississippi/Louisiana. 
A 501(c)3 nonprofit organization, the Museum relies on the support of donations to operate; support the Museum's COVID-19 relief fund at lasm.org. Stay in touch at lasm.org and follow us on Facebook (@theLASM) and Instagram (@lasmbr).