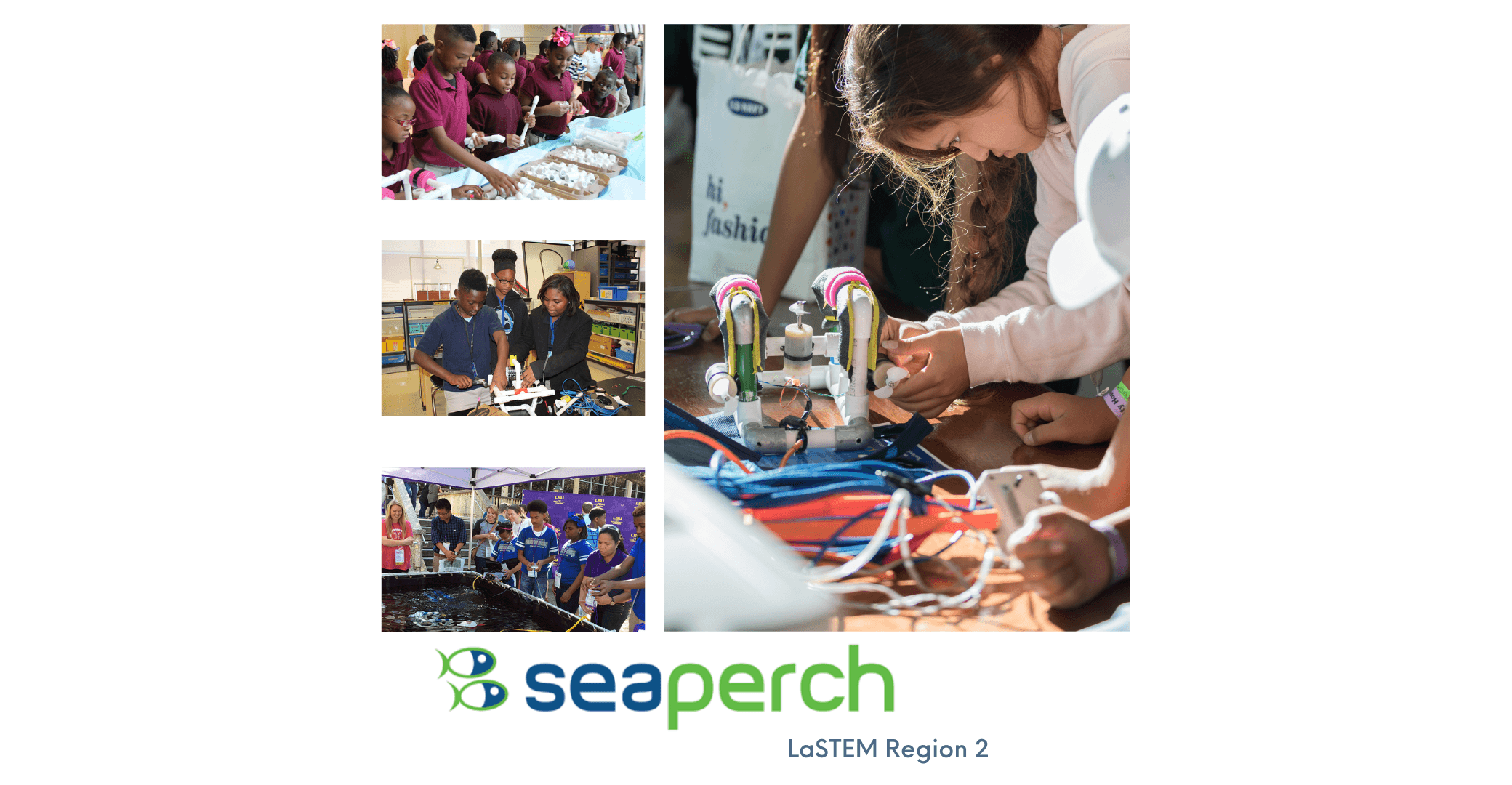 What is SeaPerch?

SeaPerch is an underwater robotics program that reduces participation barriers and provides authentic, inquiry-based learning opportunities for students and educators. As an educational program, SeaPerch introduces basic engineering, design, and science concepts. As a fun hands-on project, SeaPerch engages students and fosters critical thinking, collaboration, and creativity.
Although initially designed for traditional learning environments, SeaPerch makes an excellent project for any educational setting. The concept was inspired by a two-page project excerpted from Bohm and Jensen's 1997 classic, Build Your Own Underwater Robot: And Other Wet Projects, complete with a parts list and instructions for assembling an underwater Remotely Operated Vehicle (ROV). This deft kit consists of such everyday items as polyvinyl chloride (PVC) pipe, electrical tape, and other inexpensive, readily available materials that anyone can easily gather and build with.

Tangible, Hands-On, Real-World Experience

At the K–12 level, students are exposed to an approachable robotics program which fuels their imaginations while enhancing their education. Once the SeaPerch robot is constructed and tested, students have the option of competing in a local or regional SeaPerch competition to qualify for the National SeaPerch Challenge. One of the common elements across many organized competitions is an obstacle course staged within an olympic-sized pool, typically on a university campus.
"The SeaPerch Challenge lets youth explore the engineering process and get hands-on learning while constructing and altering their ROV for competition," according to Lori Canada, an Education Coordinator, who assists educators in content development, technology integration, and STEM education programs at RoboNation.
Throughout the process, the students will learn about buoyancy, displacement, and other physics principles through simple, well-crafted experiments. They also learn how to operate an electric drill and a soldering iron. Best of all, they're having fun doing it.
"SeaPerch is an accessible entry point into STEM where students can apply these skills to connect learning to technology used in various career fields," Canada said. SeaPerch uses low-cost, easily accessible parts and an established curriculum for grades 5–12; "Although," as Canada explained, "It is not unusual for even younger grades to participate with the assistance of their teacher who assists with soldering," for example.
Bringing Together Academia, Government, and Industry

ROVs are used prolifically across many industries for observation, inspection, and intervention tasks, leading to a variety of STEM job possibilities for student career exploration. Originally developed in 2003 by researchers at the MIT Sea Grant program, the SeaPerch concept was borrowed from MIT's Ocean engineering program. SeaPerch was piloted in Boston-area schools and then later expanded nationally via The Society of Naval Architects and Marine Engineers. Today SeaPerch is but one of RoboNation's curated pathways that uses hand-on educational experiences, including national and international robotics competitions that challenge students to apply their engineering skills in the development of autonomous ground, air, and maritime vehicles.
SeaPerch at LSU College of Engineering

LSU is proud to be one of the Navy's signature Outreach programs. Kim Kaufman, a SeaPerch Master Trainer, Engineering instructor and recruiter at Louisiana State University noted an interesting point: for students, the words 'engineer' and 'engineering' typically evoke just two of the four branches of engineering—chemical and mechanical. "Engineers are problem solvers, blending the principles of science and mathematics with a sense of creativity and innovation for improving society," said Kaufman. "And ROVs save lives!" She continued, "SeaPerch exposes students to universal engineering concepts, problem-solving, teamwork, technical applications of robotics and engineering, and ultimately provides a novel, fresh orientation towards the field."
Kaufman, who is a recruiter for LSU Engineering, is no stranger to the fact that students often lack exposure to hands-on learning, let alone the use of basic hand tools prior to high school. "The overarching goal of SeaPerch is building and sustaining a long-term effort that addresses the problem of decreasing college enrollments in engineering and technical programs by introducing elementary, middle, and high school students to engineering through hands-on activities," explained Kaufman. "The U.S. Navy had an obvious vested interest in expanding the pool of engineers when they initially supported this program," Kaufman said. "What's equally important as inspiring and recruiting the next generation of naval architects is providing students a context in which they see themselves as future engineers."

Reap the Benefits and Get Results

SeaPerch offers free teacher training to a school district or region, training the teachers and sharing other classroom usage ideas. Continuing education and/or professional credits may also be offered. Teachers get an established curriculum designed to meet many of the national learning standards. With one project, many schools can teach many of the concepts needed for their grade level—an efficient use of time, and a fun, hands-on activity for students.
Get Involved!

SeaPerch provides a supportive ecosystem of students, educators, mentors, and advocates to guide along the way. Find out how you can bring SeaPerch to the students you work with—or simply get help with a build—by contacting Kim Kaufman or Lori Canada today!
Lori Canada
RoboNation Education Coordinator
lcanada@robonation.org
Kim Kaufman
Louisiana State University College of Engineering
SeaPerch Master Trainer, Engineering Instructor & Recruiter
kkaufman@lsu.edu

_______

Upcoming Local & Regional SeaPerch Events
LaSTEM DSEC SeaPerch Educator Training
April 22, Lafayette
Louisiana 4-H SeaPerch Challenge
May 6, Baton Rouge

_______

About RoboNation

Since 2011, the SeaPerch program has been managed by RoboNation, who each year offers a series of educational programs as well as robotics competitions that allow students to apply their STEM education outside the classroom. RoboNation was created by the AUVSI Foundation, a nonprofit, charitable 501(c)3 organization established to support the educational initiatives of the Association for Unmanned Vehicle Systems International (AUVSI). Most notably, RoboNation is a place for beginners and experts alike to interact with each other and create an environment that promotes engagement and excitement for robotics. The experience is ideal preparation for entering the workforce, and many participating students are frequently offered coveted internship and employment opportunities while still in school.
Learn more: robonation.org

History of SeaPerch

Professor Thomas Consi at MIT developed a curriculum around the SeaPerch Concept as a way to grow the Ocean Engineering Program at MIT. Seeing the possibility of using SeaPerch to train teachers, MIT's Dr. Chryss Chrystostomedes sought funding from the Office of Naval Research (ONR) and the MIT Sea Grant office and began to train teachers in the Boston area and beyond. Several years later, the Society of Naval Architects and Marine Engineers (SNAME) had the vision to utilize its resources to manage the program and partnered with the Office of Naval Research (ONR) to take the SeaPerch Program from what was essentially a teacher-training program and develop it into a national K–12 STEM Outreach program. Through a grant from ONR, SNAME created a program that could be national in scope, including creating a kit, infrastructure, supporting materials, website, ordering and inventory mechanism, and a network of individuals to help grow the program. The efforts began to take root, the program grew to include almost all 50 states to date, and a national competition, the National SeaPerch Challenge, continues to expand yearly.
Learn more: seaperch.org