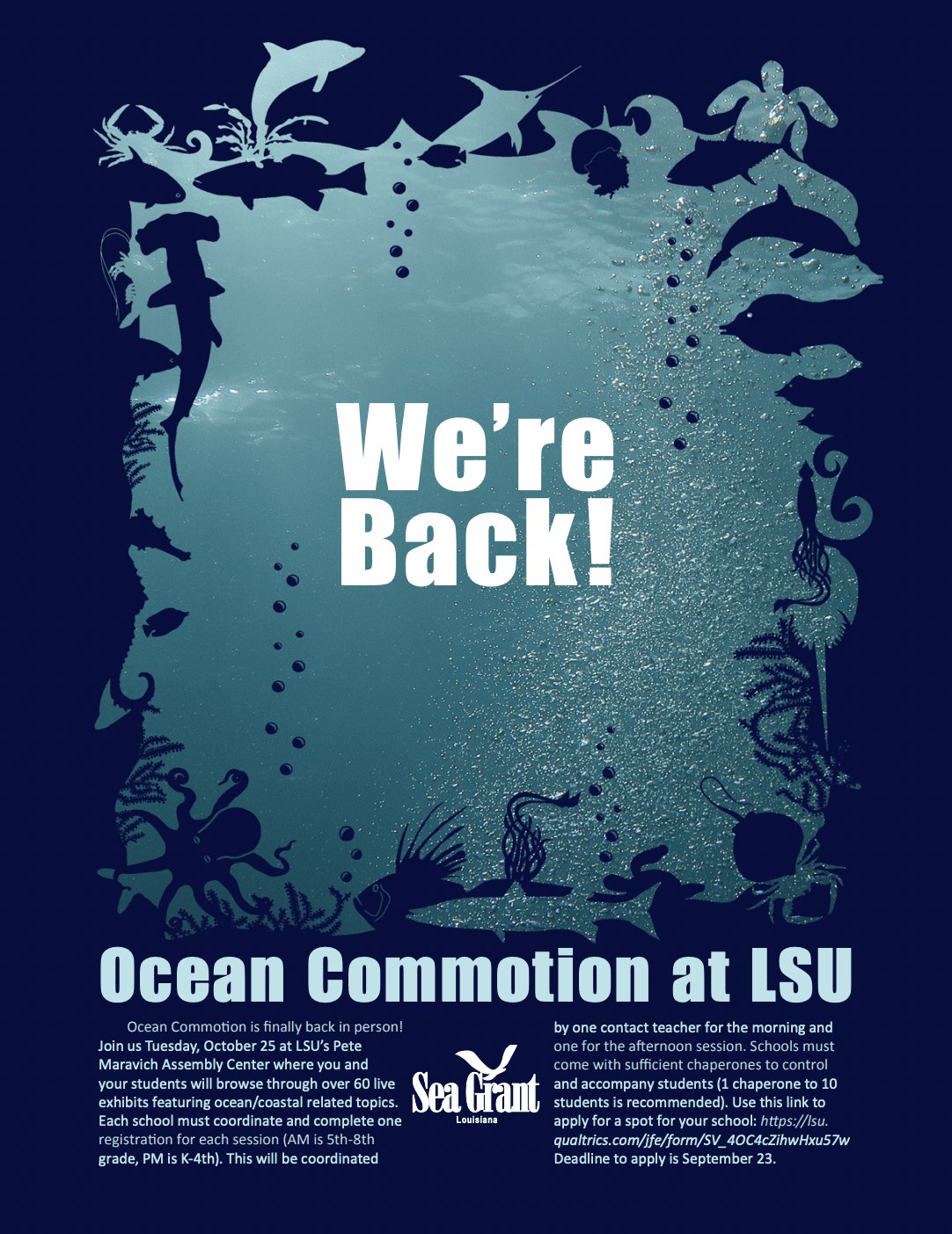 Title of the Article: 24th Annual Ocean Commotion at LSU
Date of Correction: Monday, August 14, 2023
Correction Notice: 25th Annual Ocean Commotion Takes Place in 2023
Dear Readers,
We would like to address a correction regarding the "25th Annual Ocean Commotion at LSU," which was initially published on October 4, 2022. After publication, we've become aware of an error in our reporting.
The accurate information is that the event held in 2022 was the "24th Annual Ocean Commotion," not the 25th, due to the skipped year in 2020 as a result of the pandemic.
We apologize for any confusion this might have caused and appreciate your understanding.
Our commitment to providing accurate and transparent information is of utmost importance to us. We strive to ensure that our readers have access to reliable and correct content. We thank you for your continued support. Please reach out if you have any questions or concerns.
Sincerely,

Heather Perlis
Communications Coordinator
Capital Area STEM Network

++++++

It's that time of year again when the LSU Pete Maravich Assembly Center transforms into a portal towards K–8 environmental education, future science careers and coastal Louisiana stewardship. Co-founded by Louisiana Sea Grant and the LSU Office of Communications and University Relations, Ocean Commotion was initially launched as a local observance of the United Nations' declaration of 1998 as the International Year of the Ocean (YOTO)—promoting public awareness and understanding of the oceans as a key player in global change issues. The first event proved such a hit that it has since become an annual tradition at LSU.
Since its establishment in 1978, the Louisiana Sea Grant College Program has promoted stewardship of the state's coastal resources through a combination of research, education and outreach. Ocean Commotion is one of its six outreach projects and activities that engage individuals with cultural, environmental, and historical aspects of Louisiana. Celebrating its 24th year of attracting over 3,500 area students, teachers and chaperones to LSU, Ocean Commotion connects youth with the Louisiana coast by providing hands-on activities that foster interests in and curiosity for Louisiana's passive shoreline environments.
Each October, kids across Region 2 look forward to this coastal stewardship fair where they may delve into coastal marshes and wetlands, invasive species, local ecosystems, boating safety and Louisiana geology and wildlife. Co-founder and organizer of the first Ocean Commotion, Dr. Pam Blanchard, noticed a connection between K-8 students and researchers. Blanchard, an associate professor in the College of Human Sciences and Education at LSU, envisioned a clever kinesthetic learning opportunity for increasing access to topics and learning methods not typically available in traditional classrooms. Just ask any participant—Ocean Commotion stands out as one of their favorite educational field trip destinations.
The one-day event is carried out by nearly 70 exhibitors from public, nonprofit, and private businesses, Louisiana, Mississippi, and Alabama universities, as well as government agencies and museums. Together these friendly, enthusiastic facilitators bring shoreline and deep water to students and teachers in a casual environment, while sharing their expertise and experiences working in zones of our state where many have never before ventured.
Past demonstrations have included:
An interactive stream model showing non-point source water pollution issues, river dynamics, and coastal wetland formation
How remote sensing techniques can be used for detecting oceanic features
How scientists use sensing for detecting and studying oceanographic and land based features
How remote sensing radiometers can detect temperature via indirect contact
Animations of the sea surface temperature, loop current and eddies effect, and hurricanes
Do you have an Ocean Commotion story you'd like to share? Let us know!
About Louisiana Sea Grant
Louisiana Sea Grant (LSG) was established in 1968. Based at Louisiana State University, LSG is part of the National Oceanic and Atmospheric Administration's (NOAA) National Sea Grant Program, a network made up of 34 Sea Grant programs located in each of the coastal and Great Lakes states and Puerto Rico. LSU was designated the nation's thirteenth Sea Grant College in 1978. LSG had its Program Review in September 2019, conducted by the National Sea Grant Office/NOAA, and LSG was rated as "highest performance: exceeds expectations by an exceptional margin in most areas/aspects."