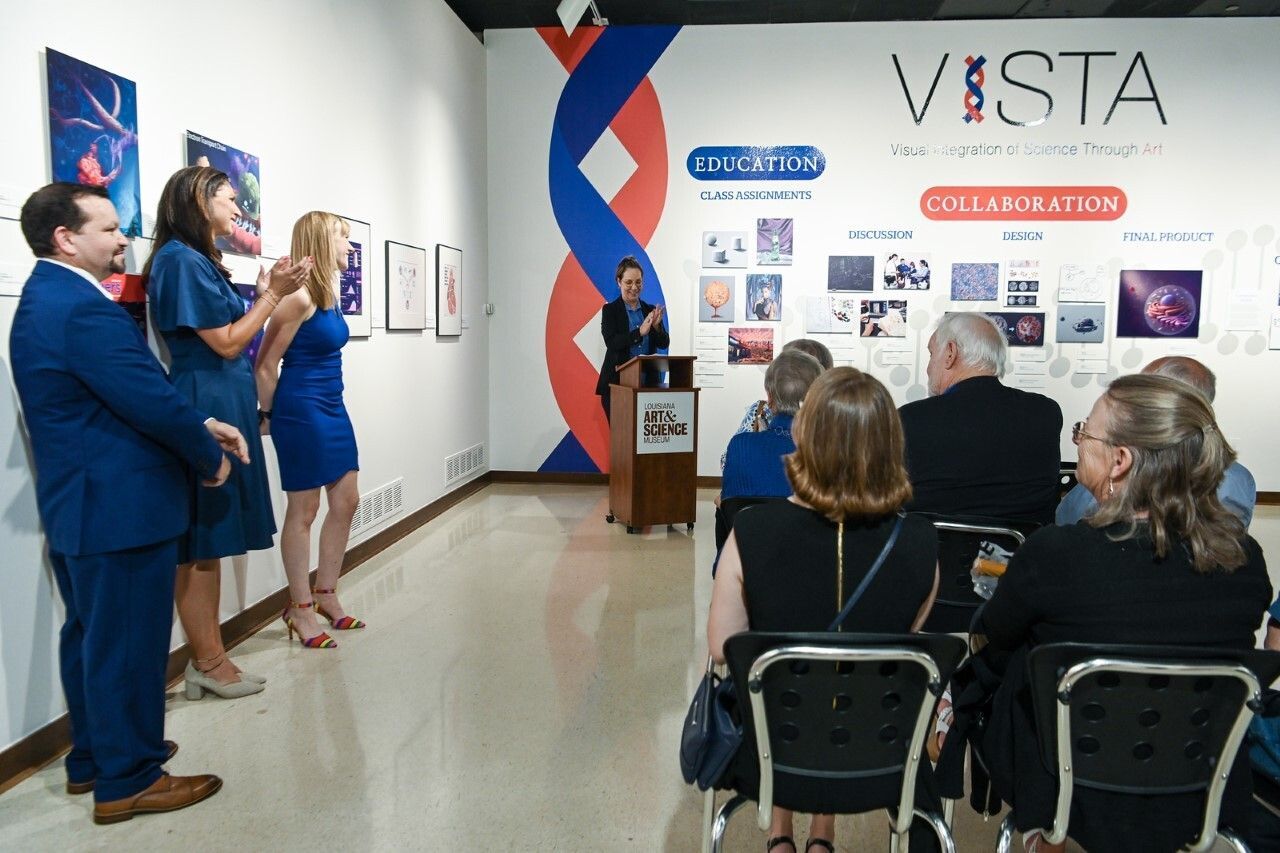 BATON ROUGE, LA – The Louisiana Art & Science Museum (LASM) will host Art After Hours: Women in STEAM on Thursday, January 5, from 6:00 PM – 8:00 PM in the Adalié Brent Auditorium. A panel of professionals in the STEM and STEAM industry will answer questions about the world of science, technology, engineering, and mathematics and discuss their experiences with gender gaps in their careers.
The panel will include Shell Production Unit Manager – HFE and LASM Board of Trustees Secretary Melissa Dotson; Biological engineering and art student, and Director of STEM and Robotics Team Coach at St. Joseph's Academy Meagan Moore; LSU Endocrinology Professor, Metabolic Basis of Disease Center at Pennington Director, and Pennington Botanical Research Center Co-Director Dr. Jacqueline Stephens, PhD; and Associate Professor of Biological Sciences, Associate Dean for Research & Graduate Studies, College of Applied & Natural Sciences for Louisiana Tech University, and Louisiana Tech's VISTA Center Co-Director Dr. Jamie Newman, PhD.
"Representation of women in STEAM means broader perspective and greater positive impact on the world," states Dr. Newman. "The first time I saw DNA run through an agarose gel, I was hooked. I knew that whatever I did, it had to involve reliving that sense of amazement and sharing that with others. Over time I have continued to perform research and involve students in research and have collaborated with colleagues across disciplines to continue learning and exploring new areas in STEAM."
The evening will consist of a 30-minute question and answer panel from 6:30 PM – 7 PM, with appetizers and refreshments provided. Visitors will be able to tour LASM's 1st Floor Main Gallery exhibition Diamonds of History: Mighty Women by Ashley Longshore, which highlights 29 influential women from the past and today and the impact they have had on society through their work in the arts, sciences, political sphere, and beyond. Visitors will also be able to tour 2nd Floor Main Gallery exhibition Illustrating Health, which explores the visual representations of diseases, everyday occurrences, and lifesaving research that affects the medical health of the members of our community.
Admission for the event is $15 for non-members. LASM Members and students with a student ID can attend the evening for free. Visit lasm.org for more information.
Image Credit: LASM's Illustrating Health Opening Reception
###
About the Louisiana Art & Science Museum:
Located at 100 South River Road, Baton Rouge, LA 70801 and housed on the banks of the Mississippi River in a historic railway station in downtown Baton Rouge, the Louisiana Art & Science Museum believes that art and science shape each other, our lives, and the world.
The Museum, founded in 1962, is home to the Irene W. Pennington Planetarium, the largest and most advanced planetarium in Louisiana and one of the largest in the southeastern United States; a permanent collection including over 4,000 objects; one of the only permanent ancient Egypt galleries in the southeastern United States, housing an authentic, Ptolemaic-era mummy; and displays changing art exhibitions of local and international acclaim.
LASM is now open on Wednesdays, Thursdays, and Fridays from 10 AM – 3 PM, Saturdays from 10 AM – 5 PM, and Sundays from 1 PM – 5 PM. Museum doors open at 9:45 AM for seating in the Irene W. Pennington Planetarium. On Saturdays and Sundays, the last planetarium show runs at 4 PM. Admission, which includes unlimited access to all planetarium shows, is free for members and children 2 years old and under; $10 for children ages 3-12 and senior adults aged 65 and up; and $12 for adults. Active-duty military members, first responders, military veterans, and their families receive free admission with ID as part of the Blue Star Museums program, sponsored by Special Risk Insurance, Inc. VFIS of Mississippi/Louisiana.
A 501(c)3 nonprofit organization, the Museum relies on the support of donations to operate; support the Museum's COVID-19 relief fund at lasm.org. Stay in touch at lasm.org and follow us on Facebook (@theLASM) and Instagram (@lasmbr).