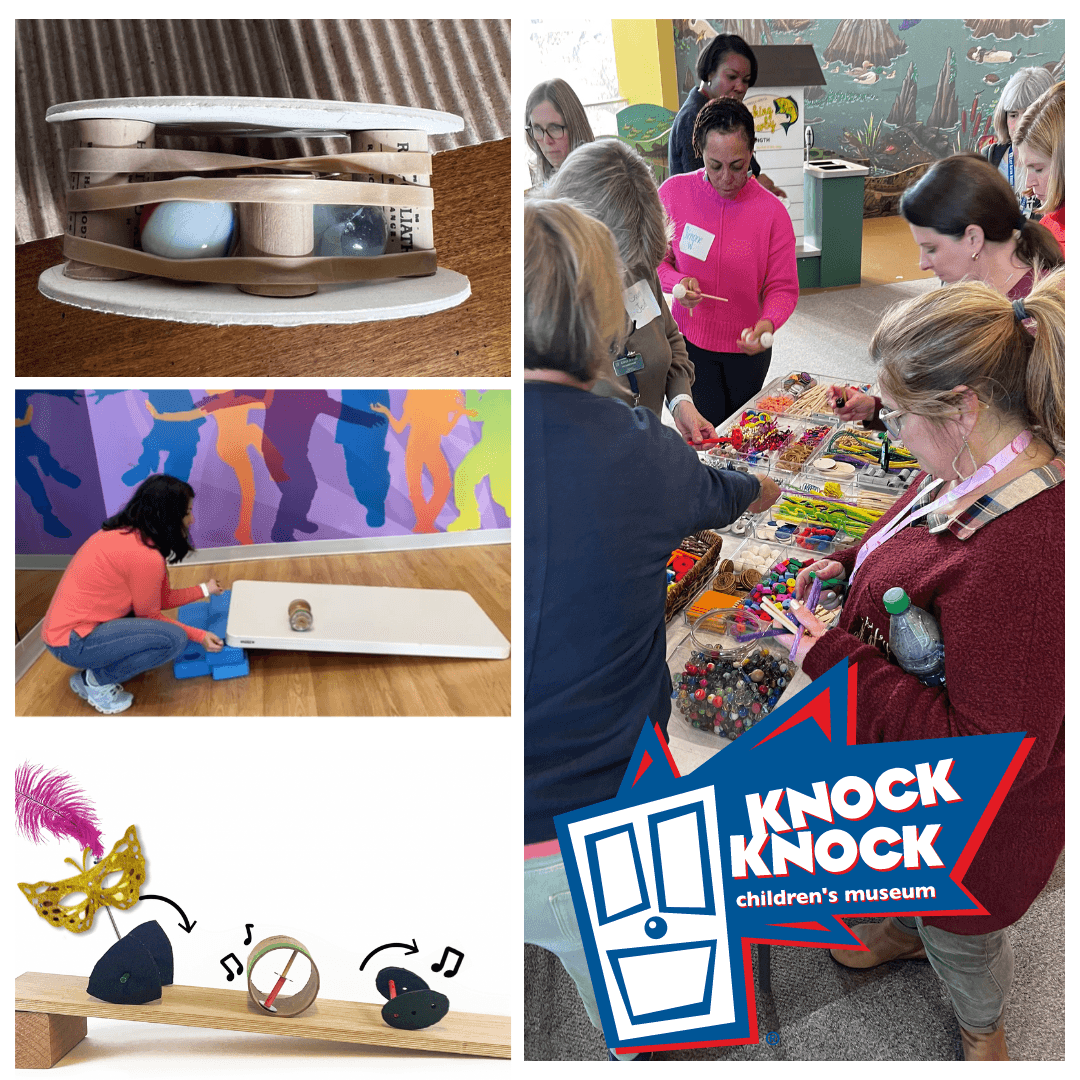 The challenge: Build a Mardi Gras roller that moves in whimsical ways or makes surprising sounds at it scoots, wobbles, and tumbles down a ramp.
Through a grant from DOW, PreK–3rd grade educators and librarians from three parishes gathered at Knock Knock Children's Museum as part of the monthly Making Spaces professional development series, with the latest session focused on Ramps and Rollers. The Louisiana State Standards for Science encourages teachers to grab children's attention to real-world "phenomena" that sparks their curiosity and wonder to engage them in science and engineering. Building rollers that moved in unusual ways was a playful experience to study the phenomena of rolling and addressed the Physical Science standards related to Motion and Stability.
After studying examples of wacky rollers, educators selected objects from a materials buffet of easily found recyclable materials to build their rollers—spools, cardboard tubes, cans, lids, skewers, plastic bottles, nuts, and bolts, drinking straws, corks, rubber bands, clothespins and more. The teachers commented on the simplicity of the materials and how they didn't need a special kit for the experience. Looking at familiar materials and using them in unfamiliar ways is a key tenant of tinkering and creative problem solving.
After making small adjustments to their roller so that it would make a sound or move in a surprising way, they added a little Mardi Gras flair with king cake babies, beads, ribbons, and doubloons. Teachers worked together to come up with creative solutions to their problems:
"My roller needed more weight, so I added some bolts."
"I needed to slow my roller down, so I added a tail with Mardi Gras beads."
"When I changed the position of one wheel, my roller would wobble."
The Krewe of Wacky Rollers moved throughout the museum's 18 Learning Zones in search of ramps. In Go Go Garage, they tested their rollers on a car racetrack and adjusted the incline by turning a crank. In Pelican Pantry, they created their own ramp using cereal boxes propped up on spaghetti boxes. The big Mississippi River Bridge in By You Building was a steep slope that moved their rollers very fast and far. The ledge around the All Aboard push boat had both steep slopes and gentle slopes where they compared the difference in movement. Some teachers even observed how their roller moved on the large wavy books of the Storybook Climber.
Based on their investigation of their wacky rollers, teachers shared some of the big ideas and concepts they uncovered:
When placed on a ramp, some objects roll, others slide, and others stay put.
The shape of their roller and its placement on a ramp affects how the roller moves.
The steepness of a ramp and the texture of the surface affects how far and fast an object will roll.
The group discussed how they could implement this in the classroom and ways parents could try this at home with their children. One idea was a simple scavenger hunt looking for objects that roll or could be used as ramps to help children think about the physical properties of everyday objects in their own environment.
The Ramps and Rollers experience was inspired by the work of The Tinkering Studio in San Francisco's Exploratorium.
In its third year, Knock Knock's Making Spaces series continues to provide selected PreK–3rd grade leadership teams the help they need to jumpstart and sustain maker-centered learning through ongoing professional development, tools, resources and community engagement. For more information on STEAM-related professional development opportunities, contact Alexandra Pearson apearson@knockknockmuseum.org.
Through making, tinkering, and engineering, the Krewe of Wacky Rollers lived up to the Louisiana saying—Laissez les bon temps rouler!
–––––––

Curious about ramps and rollers? You, too, can build rollers that move in whimsical ways or make surprising sounds as they scoot, wobble, and tumble down a wide wooden ramp. Learners observe the movements of the contraptions, make changes that affect the way they travel down the surface, and experiment with phenomena like gravity, friction, and balance. Make your own durable materials set to join our investigations of things that roll in funny and surprising ways, using this open kit from Exploratorium's Tinkering Studio!