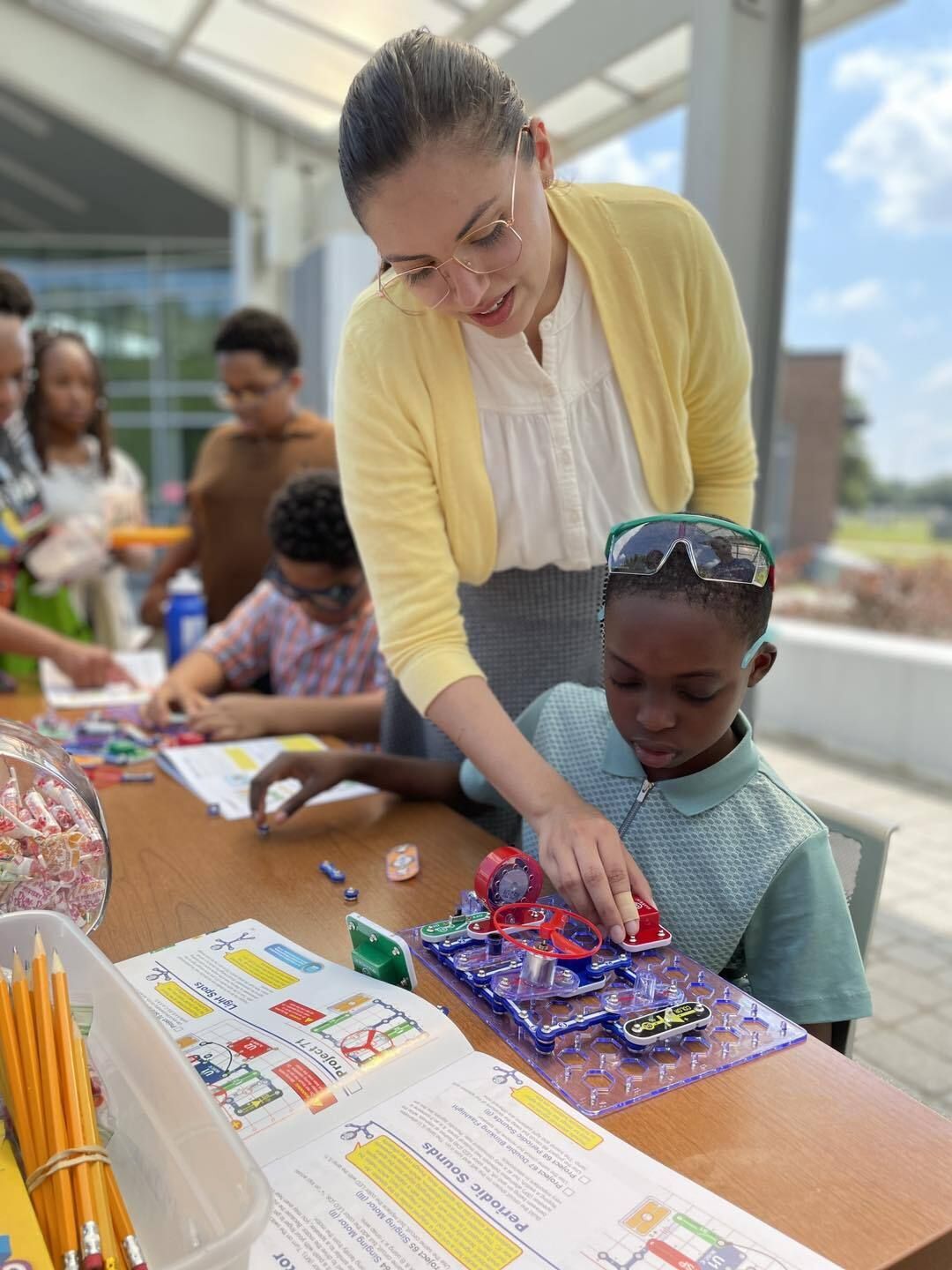 On June 1st, 2023, the Capital Area STEM Network actively participated in an electrifying event hosted by the East Baton Rouge Parish Library, leaving young minds buzzing with excitement. The STEM Summer Kick-Off, held at the Main Library on Goodwood, offered children a unique opportunity to explore the wonders of STEM through engaging activities at various booths, including the Capital Area STEM Network's table focused on electricity. The goal of this event was to inspire and nurture the next generation of scientists, technologists, engineers, and mathematicians.
Children eagerly gathered around the Capital Area STEM Network's table, where they connected wires, switches, and lights under the guidance of an enthusiastic AmeriCorps VISTA. The hands-on snap circuits provided an accessible way for young learners to understand the basics of electricity and the importance of safety.
In addition to the interactive activities, valuable resources such as pamphlets, booklets, and brochures were distributed to the attendees. These resources allowed children to explore the world of STEM beyond the event, empowering them to continue their learning journey.
Participants were also provided with thought-provoking handouts to record their observations and insights about electricity. This exercise encouraged them to articulate their understanding of the subject matter and develop their analytical skills while fostering creativity.
The STEM Summer Kick-Off showcased the power of collaboration and community engagement. The East Baton Rouge Parish Library System, in partnership with local organizations and volunteers, worked tirelessly to create an environment that fostered curiosity and ignited a passion for STEM among the young attendees. The event not only celebrated the wonders of electricity but also served as a starting point for children to explore other areas within the realm of science, technology, engineering, and mathematics.
Through hands-on activities, valuable resources, and opportunities for reflection, this event laid the foundation for a summer filled with curiosity and exploration.
For more information about upcoming STEM events and programs, explore our blog, events calendar, and share our newsletter with a friend. Embrace the excitement and let the power of STEM shape the future of our young learners.