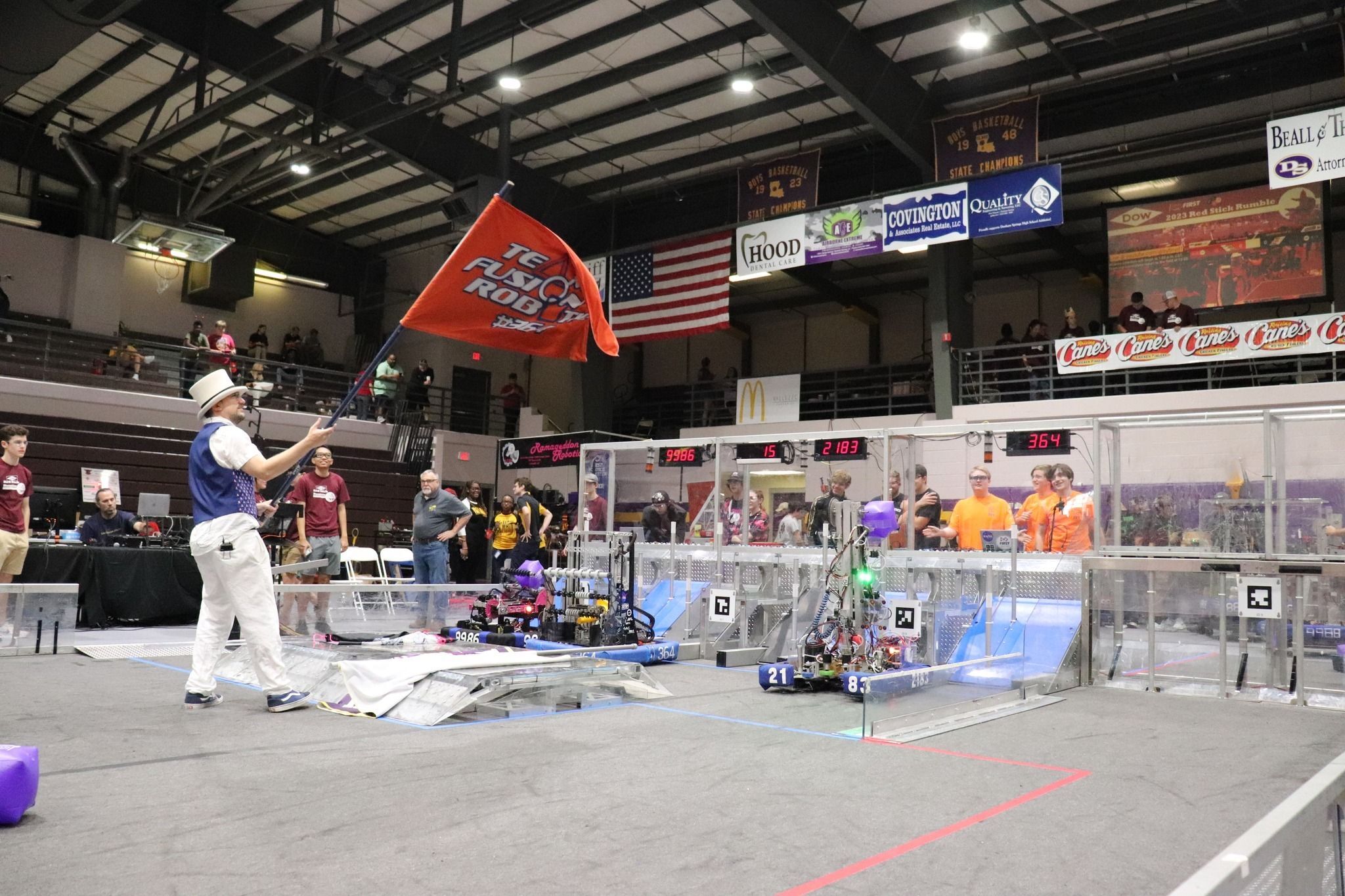 Celebrating its 10th edition this year, the Dow Red Stick Rumble Robotics Competition once again transformed Denham Springs' Hornsby Gym into a hub of robotics innovation and excitement. On August 26th, approximately 1,000 attendees, spanning from curious onlookers to dedicated robotics enthusiasts, congregated to witness high school students from Louisiana, Texas, and Mississippi demonstrate their skills in robotics.
The event showcased 18 talented teams, bringing forth a grand total of 27 robots, each designed and programmed to impress. These weren't merely machines; they were embodiments of countless hours of hard work, collaboration, innovation, and the spirit of the FIRST® Robotics Competition (FRC).
For those unfamiliar, FRC is a part of FIRST®, which stands for "For Inspiration and Recognition of Science and Technology." FIRST® is a global movement that aims to inspire young people to be science and technology leaders and innovators. By engaging them in exciting mentor-based programs, FIRST® challenges students to tackle real-world engineering problems in a competitive yet supportive environment. With over 600,000 students, 250,000 mentors, and events in more than 110 countries, it's a force propelling the next generation of our world's problem solvers.
In the heat of competition, Alliance Captain 3039, Wildcat Robotics from Destrehan High School, together with their partners 364, Team Fusion from Gulfport High School, and 9309, Eleanor McMain from Eleanor McMain High School, emerged victorious. For Team 9309, it marked a special milestone — their first win in any FRC event, underscoring the significance of platforms like the Dow Red Stick Rumble in offering opportunities for growth, practice, and mentorship.
The organizing prowess behind this grand event rested on the shoulders of FIRST® Team 8044, Denham Venom. As the local Denham Springs High FRC team, their dedication and passion, in conjunction with the Denham Springs High School STEM and Robotics Center, transformed an ordinary gymnasium into an arena of robotic marvel.
Michael Simmons, director of the DSHS STEM and Robotics Center, gave voice to the essence of the event: "The Dow Red Stick Rumble is a beacon of inspiration and a testament to the transformative power of STEM education. It's about more than robots; it's about shaping futures."
Accentuating the event's gravity, Representative Buddy Mincey from District 71 of the Louisiana House of Representatives, alongside Jeff Lichon from Dow Chemical, shared insights about the evolving landscape of STEM and its quintessential role in shaping the leaders of tomorrow.
The seamless execution of the event was also credited to a group of dedicated volunteers hailing from NASA, FIRST® Tech Challenge Team Stinger Robotics, and the LSU Society of Peer Mentors from the Engineering Department.
As the curtains fell on the 10th Dow Red Stick Rumble, it left an indelible mark not just as a competition, but as a testament to the passion, innovation, and the boundless potential of youth.