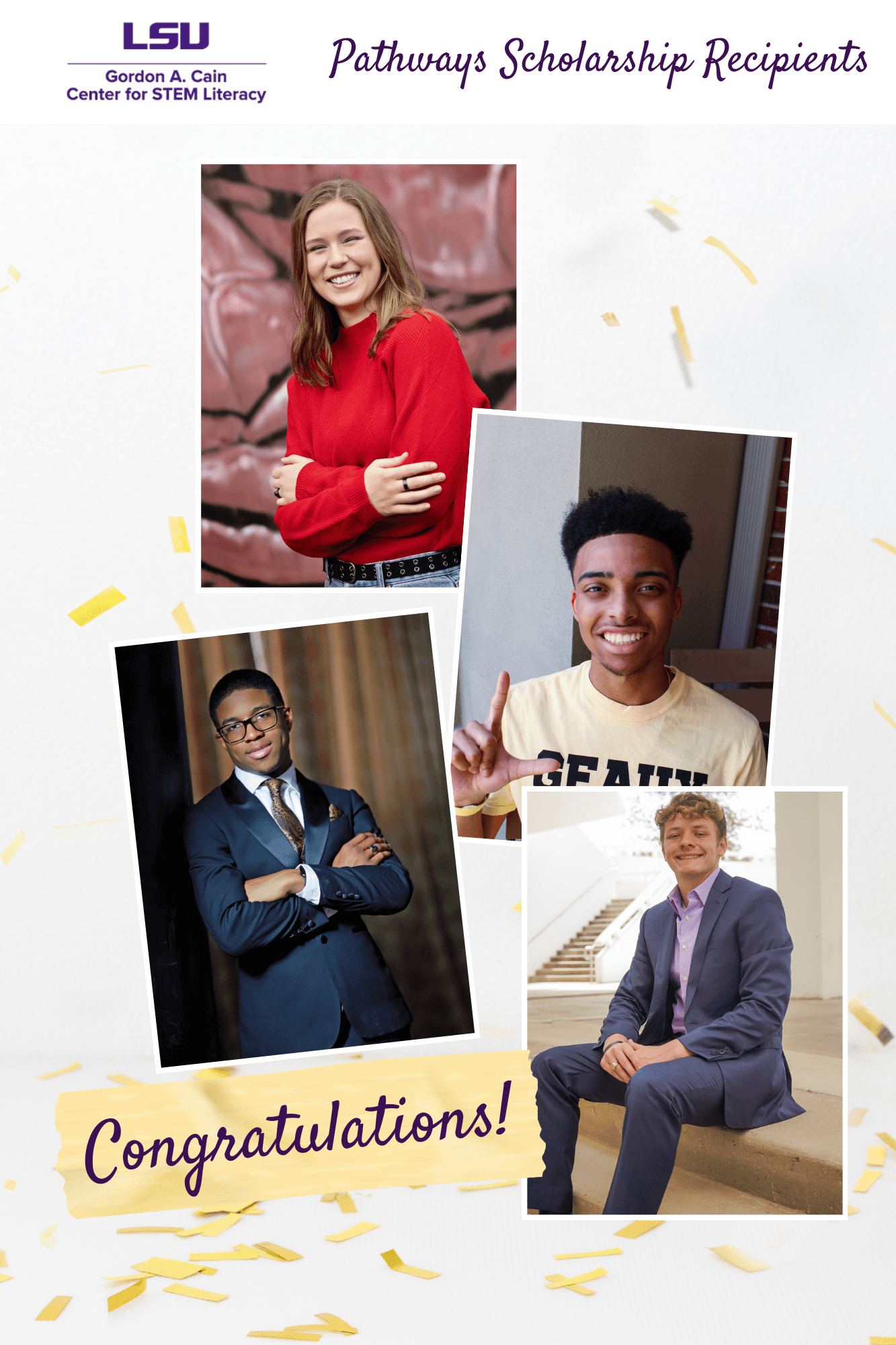 Caption: LSU STEM Pathways Gold and Silver STEM Seal Scholarship recipients from the High School Class of 2023. Pictured from top, left to right: Alexis Cronan (Gold), Kameron Arceneaux (Gold), Brady Gibson (Gold), and Michael Dunlap (Silver). Not pictured are Andrew Dang (Gold), Caleb Hall (Silver), and Carlo Travis (Silver).
---
The LSU Cain Center is happy to announce that this year we awarded 3 Gold STEM Seal Scholarships, valued at $1500 each, and 3 Silver scholarships, valued at $750 each, to incoming LSU freshmen in the class of 2023. For these students to be eligible for the scholarship, they had to earn the silver or gold STEM Seal on their high school diploma, have a 3.5 high school GPA, get a letter of recommendation, and write an essay.

To earn the Silver STEM Seal while in high school, students had to take a series of 4 high quality STEM courses developed by LSU in one of four STEM concentrations: biomedical sciences, computing, digital design & emergent media, and pre-engineering. To earn the Gold STEM Seal, students had to take 4 additional STEM related advanced placement or dual enrollment courses, or LSU developed STEM courses. By earning the STEM Seal, the scholarship recipients have clearly exhibited their commitment to science, technology, engineering, and mathematics, setting the stage for promising futures at LSU.

Each year 20 Silver STEM Seal Scholarships and 10 Gold STEM Seal Scholarships are available for students who meet the eligibility criteria and submit the application. An additional Gold Scholarship, awarded to Andrew Dang this year, is co-sponsored by the Cain Center and the College of Engineering specifically for a student who graduated with a pre-engineering Gold STEM Seal and who is committed to studying engineering. These scholarships are offered with the intent of nurturing the STEM talents of our students, reinforcing our commitment to fostering a strong STEM community. However, these scholarships extend beyond financial assistance. They signify the recognition of these remarkable students' potential to shape the future of STEM. Their passion for excellence, their insatiable thirst for knowledge, and their innovative spirit have set them apart as future leaders and innovators in the ever-evolving world of STEM.

As a testament to their exceptional dedication and achievements, we applaud these scholarship recipients. We look forward to celebrating their future successes and contributions to the STEM community and beyond.
2023 Gold and Silver STEM Seal Scholarship Recipients
Gold STEM Seal
Kameron Arceneaux
Alexis Cronan
Andrew Dang
Brady Gibson

Silver STEM Seal
Michael Dunlap
Caleb Hall
Carlo Travis